Surfing is the perfect adventure activity day for both men and women!  We can teach anyone to surf young or old, but we will also make sure you have fun doing so!  Afterwards there will be a beer or bottle of fizz waiting rest assured!  
If you don't fancy surfing, then paddleboard lessons are just as popular.  Paddleboarding is an ancient Polynesian water sport that is currently exploding into popularity. Essentially it is standing on a giant surfboard and propelling yourself along with a single ended paddle. Standing on the board gives you a better view of what is going on around you such as incoming waves. So what are you waiting for? 
To book your stag group or hen group in then give us a call on 01407 811247.  We can get together a bespoke package for you, mix up the paddleboarding and surfing perhaps?!  Just give us a call and leave the rest to us.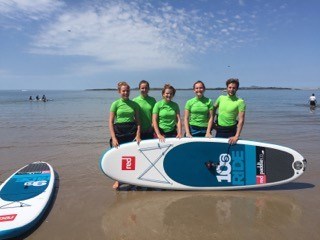 We have plenty of groups that come for their stag and hen weekends and totally fall in love with their board afterwards, so don't be surprised!